Contact Us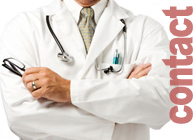 Karlton Apt., Vakola Village Road, Near Vakola Masjid, Vakola, Santacruz (E), Mumbai - 400 055.
Tel. : +91-22-26671544
Mob.: +91-98201 83757
Endoscopy A Keyhole Surgery
This is also called as Minimally invasive surgery & includes Laprascopy and hystrescopy. Facilities for Laprascopy and hysterectomy are available with stated the art equipments.
Laparoscopy done for

Diagnosis in fertility
Surgery treatment of infertility
Surgery for endometriosis
Removal of Uterus
Removal of ovarian cysts
Removal of fibroid

Hystersocopy done for

Diagnosis in fertility
Surgery for treatment of infertility
Surgery for endometriosis
Removal of septum in uterus
Removal of polyp in uterus
Treatment of heavy periods
Removal of fibroids
Advantages of Endoscopy
Smaller incision which reduces pain and shortens recovery time less post operative scarring
Less pain leading to less pain medication
Short hospital stay which leads to faster return to every living
Reduced risk of infection